With March well underway, you may find yourself deep in RV spring cleaning, planning your 2022 road trips or perhaps you're ready to embark on a freshening-up journey but need a little design inspiration to get you going. Making your RV feel like home is an exciting part of owning an RV, but figuring out where to start can be intimidating, especially if you're new to the RV lifestyle.
That's why we searched every rabbit hole of the internet to bring you RVers who have and who continue to elevate RV interiors. From drool-worthy decor to jaw-dropping renovations (really, we cannot believe some of these spaces are RVs) there is no shortage of sheer inspiration below.
We shamelessly reached out to our RV design hero's and asked them to share their top tips for making their RVs feel more like home. Spoiler – they did not disappoint. Below you'll hear from 10 inspiring RVers who will spark your design imagination. From being bold to creating variation, their advice can help you achieve your desired interior goals. We've linked each RVers social account so you can easily give them a follow and continue to be inspired by their elevated spaces well beyond this article. Check out all the details below.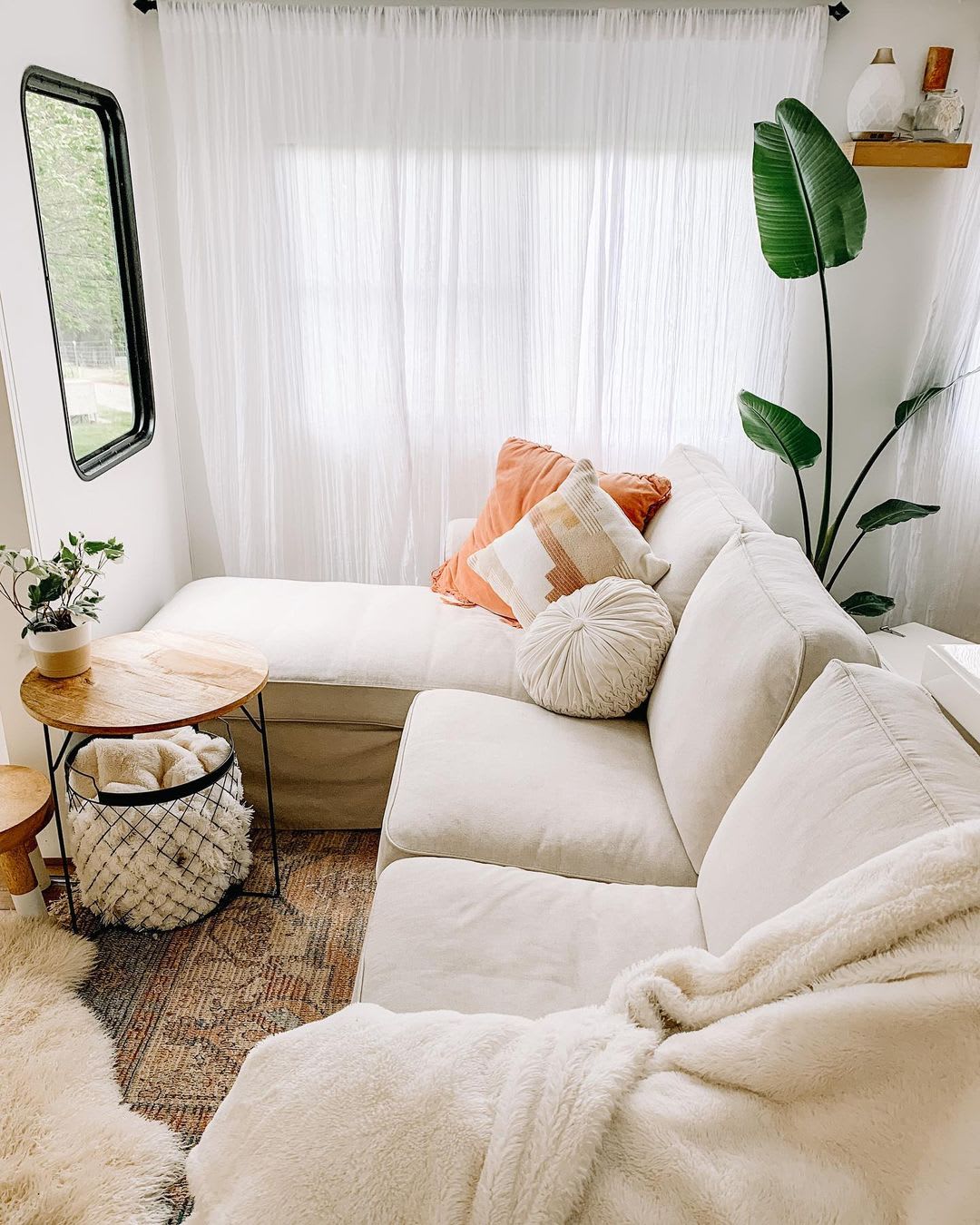 Tip #1 and Photography by Karissa of @thatriesfamily
"Bring your favorite items from your home and put them in your RV! Example – your favorite bedding, your favorite mirror, throw pillows, or fresh flowers. All of these things can instantly change the vibe of your space and make it feel like home!"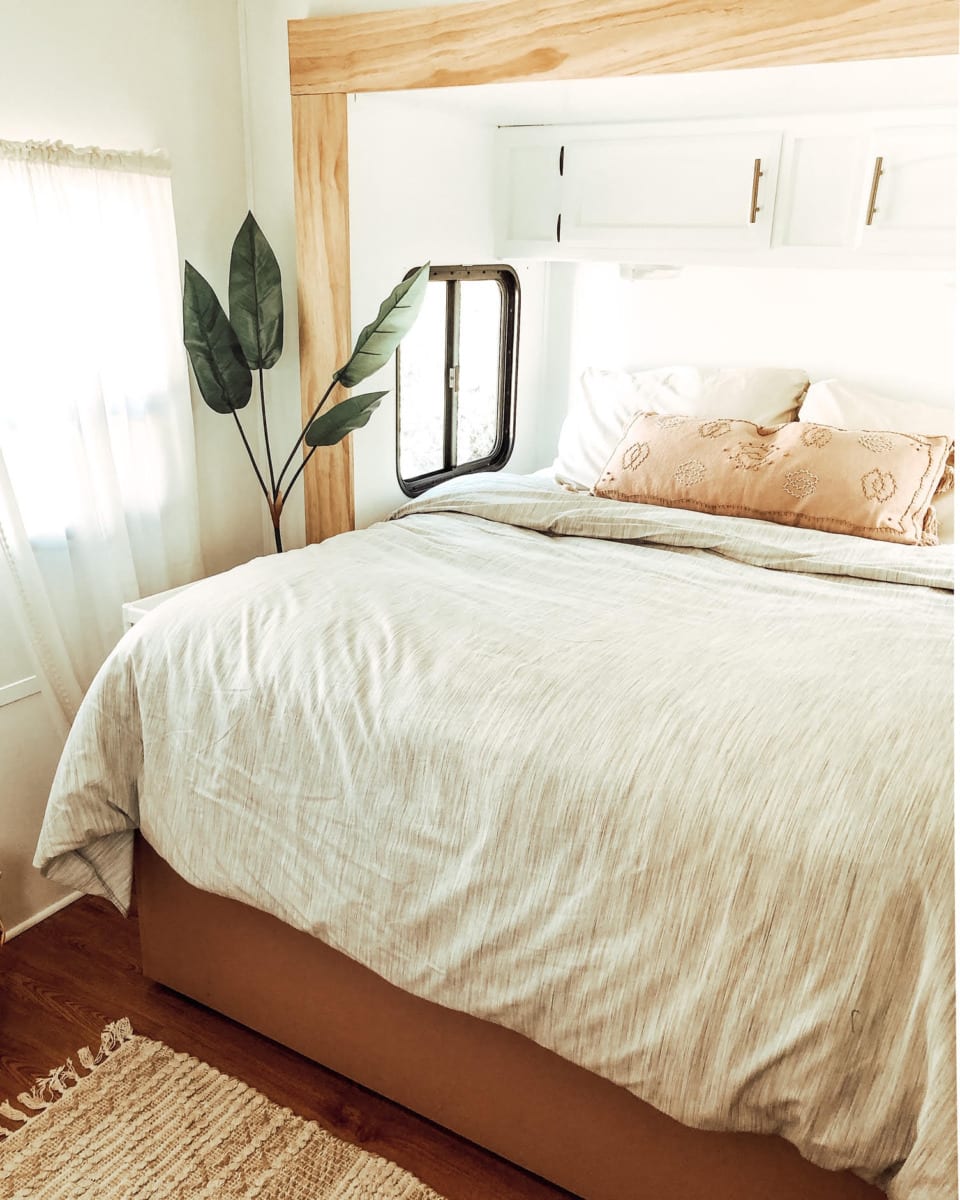 Tip #2 and Photography by Sarah of @lefttherightcoast
"Add small touches of home such as real (or faux) plants, throw pillows or colorful area rugs. Peel and stick wallpaper can be a great alternative to paint for a quick and easy update to freshen up boring walls. Hanging curtains over the existing shades adds an instant touch of home to your RV!"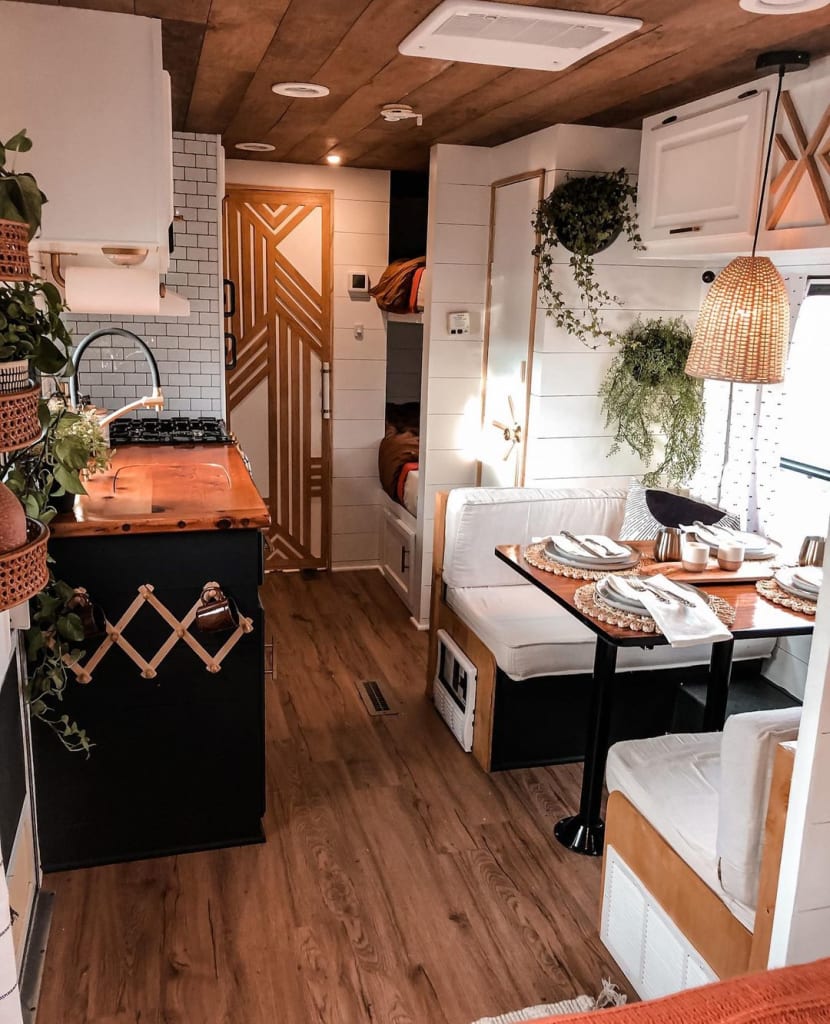 Tip #3 and Photography by Aline of @alineatl
"The tip I can give is really what I did: use the inspiration generated by the enthusiasm to create my home with my essence, in a place that would let me experiment without fear of making mistakes… the RV! Remodeling every detail according to your taste means transforming it into a home. There is nothing better than knowing that I will have this coziness wherever I go! Always seek inspiration!"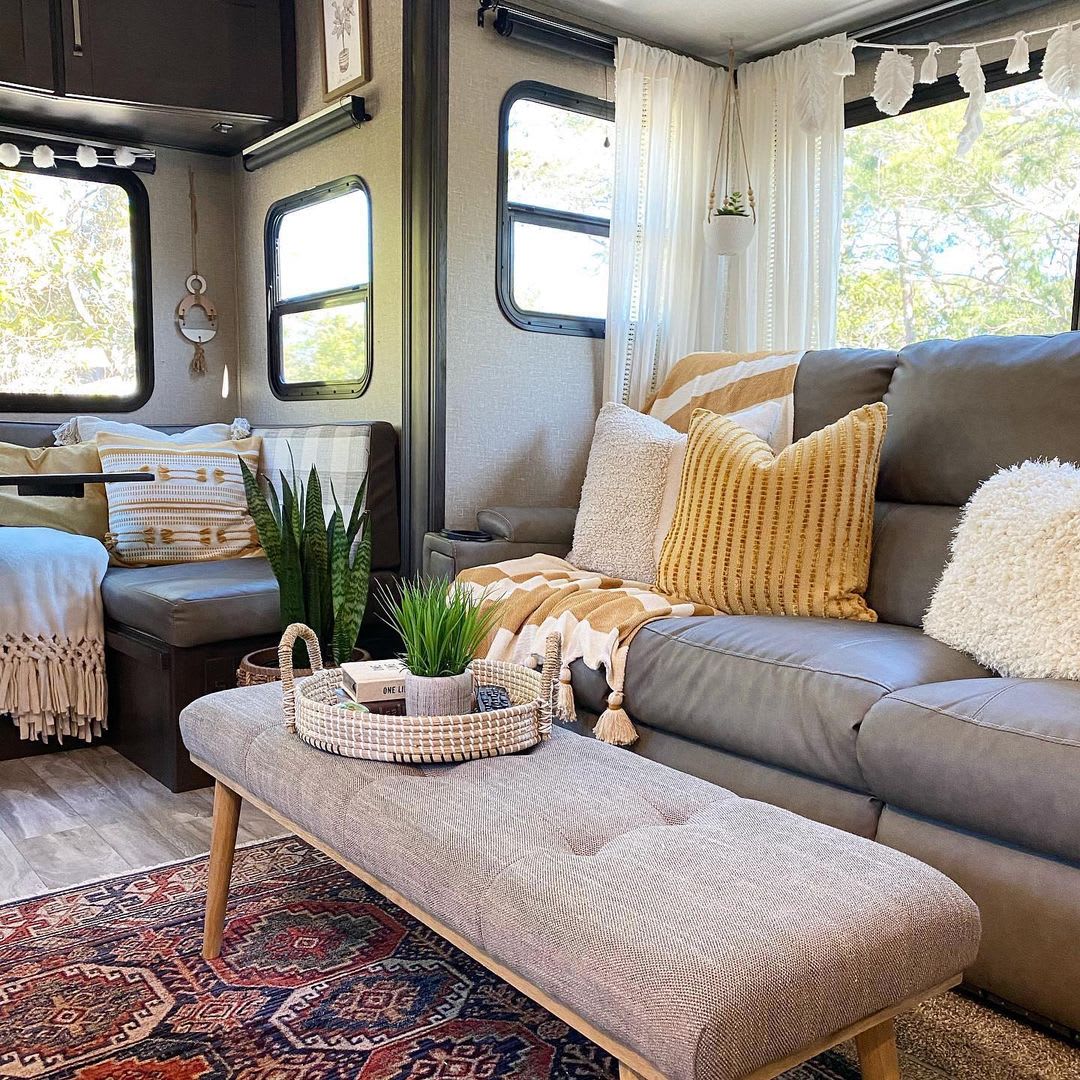 Tip #4 and Photography by Greg and Tammy of @chasingthecashes
"Our biggest tip for making your RV feel more like home would be removing the big bulky valances to let more sunshine in and make your view even more incredible. Another tip to creating a home-feel in your RV is buying good quality throw pillows that you can switch out the covers when you want to change things up. Pillow covers take up only a small portion of our precious RV space, and you can easily create a whole new look without buying new pillows."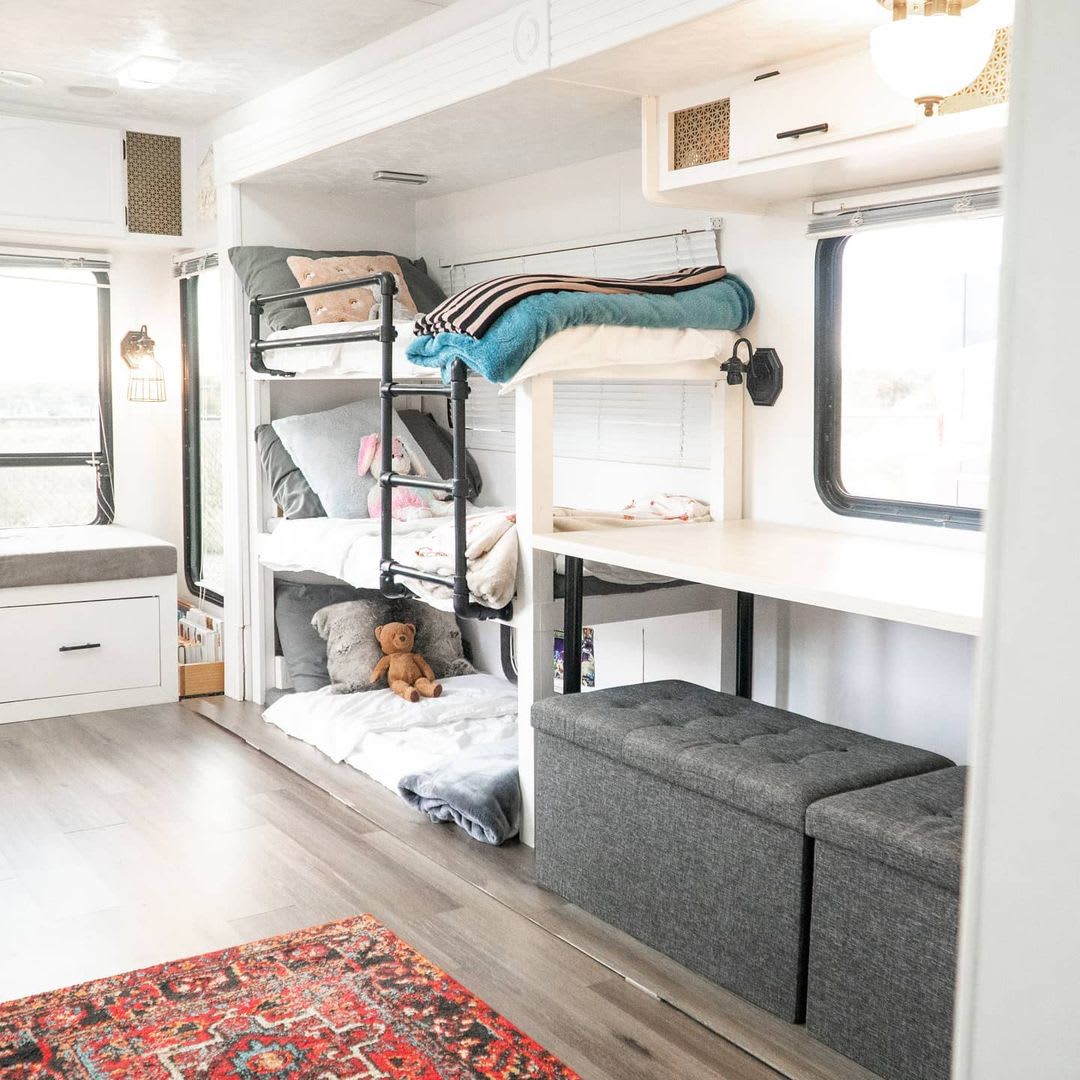 Tip #5 and Photography by @heyletsadventure
"There is something that feels a bit sterile and usually very neutral about RV's. One of our favorite ways to bring in our own personality and make it a bit more "homey" is with textures and textiles. It is easy to add a pop of color and some warmth with things like: a new comforter, a rug or two, some pillows, a throw blanket on the couch, curtains that either replace blinds or cover them to add some depth to the window area. Even hanging things on the wall instead of pictures that are both useful and practical – think cutting boards, baskets, hats… all of these options will add something visually without feeling like clutter. The best part of all of this is that most of these things don't have to cost a lot of money. A few of these items can add a lot to a small space!"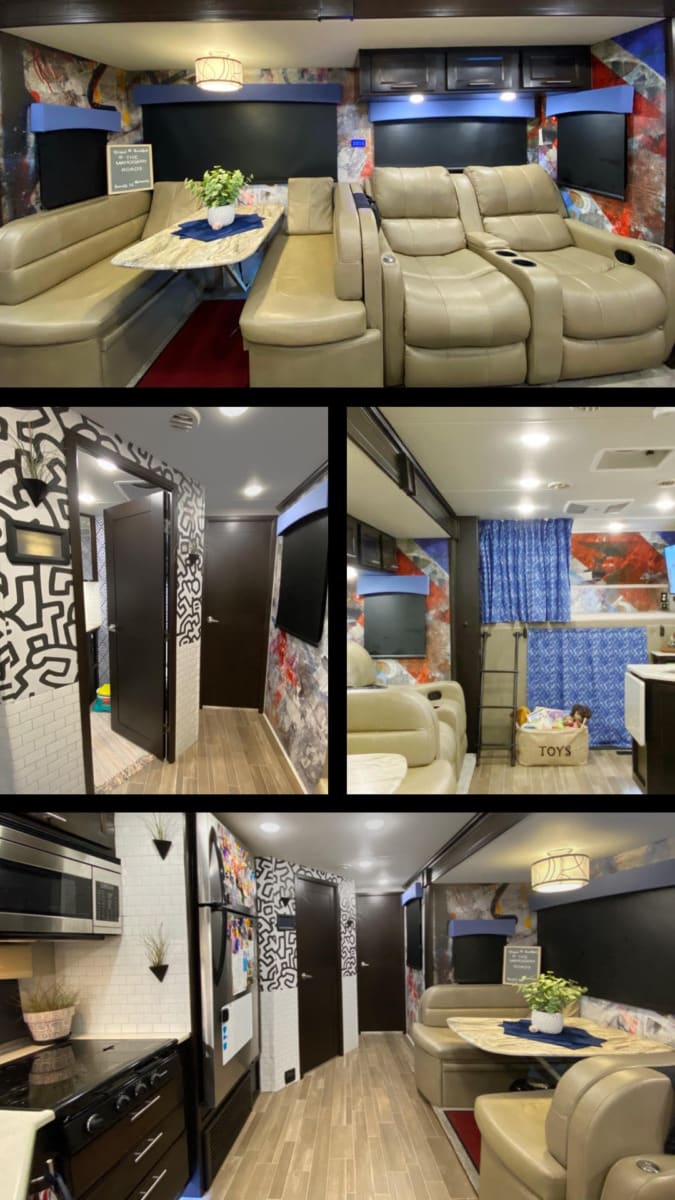 Tip #6 and Photography by Dave and Nia of @themahoganyroads
"Be Bold! Living in a small space doesn't mean you're limited in styling your tiny home. Spend a little extra on some peel & stick wall art pieces that show off your personality and don't be afraid to pair patterns with textures to really elevate your one-of-a-kind design."\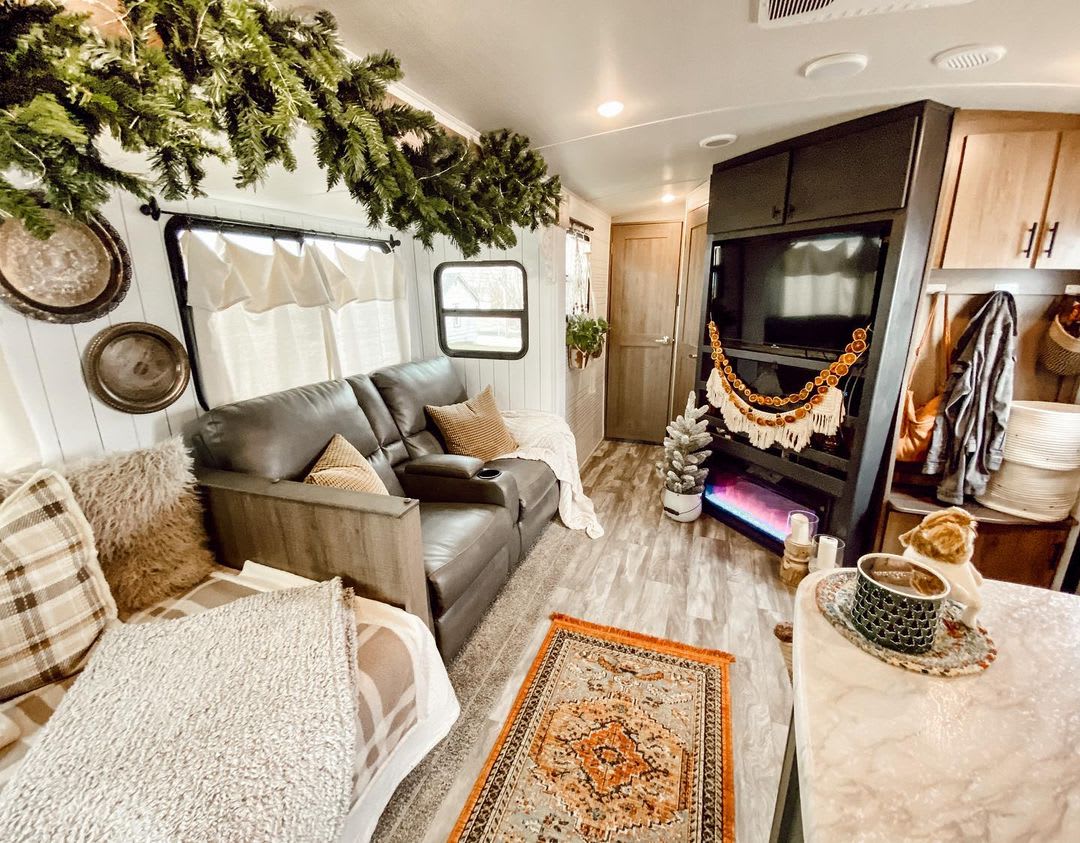 Tip #7 and Photography by Sarah and Carson of @ourlifeonlaketime
"My tip for making your RV feel like home is that you should treat it like you would treat any other home and make it your own. If you want to paint the walls, do it! Want to add wallpaper, go for it! If paint and wallpaper aren't your thing, that's fine too! If you love plants, have plants! It's all about filling your home with things (and people) you love, just like you would any other home."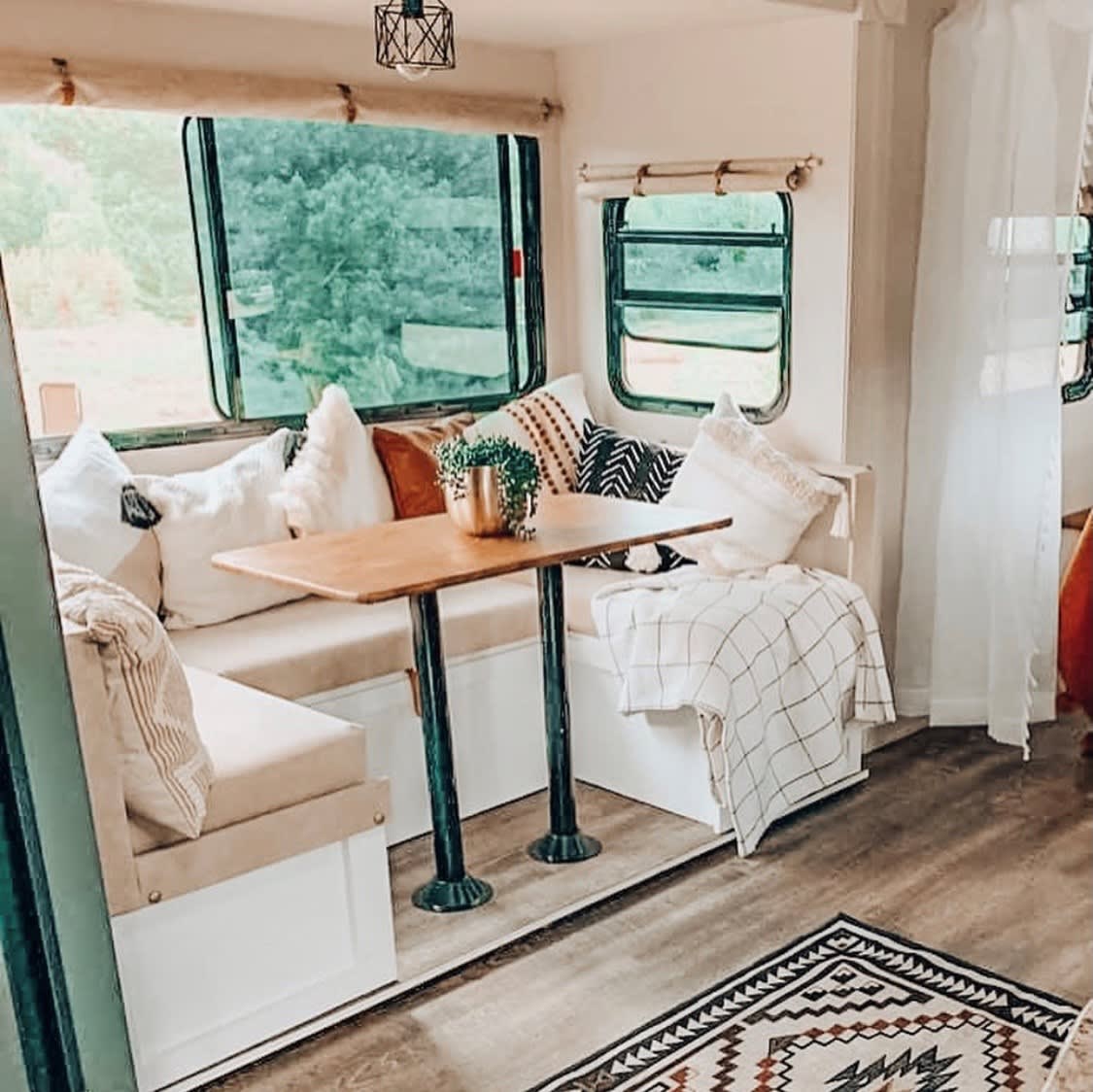 Tip #8 and Photography by Leah of @heads.east.tails.west
"My top tip for making an RV homey is to use as much texture and variation as possible. Whether it be adding an interesting design to your otherwise plain door, or using a rug with a bold print for a pop of color, the more you incorporate texture the more unique and personalized the space becomes. I chose to rely heavily on interesting throw pillows in our dining nook to tie in the various tones of the surrounding areas but also create an inviting space to hang out and have a meal. I love the way it brings the space together and coordinates with the bedding and kitchen accents."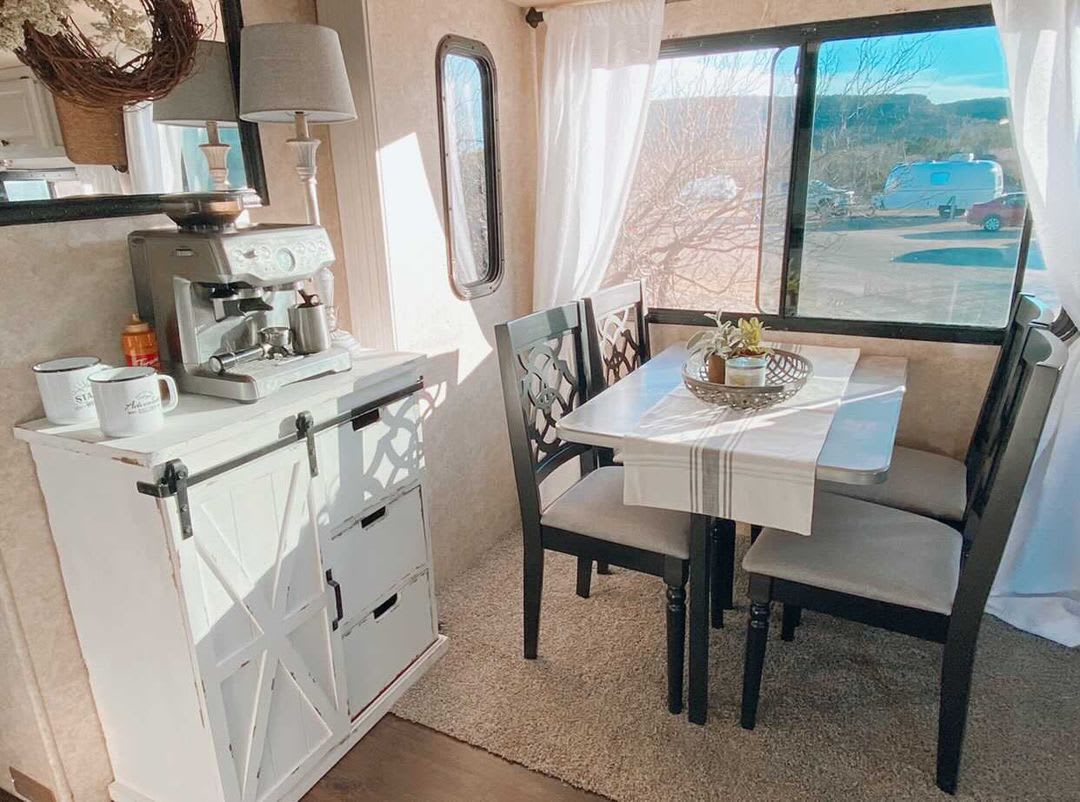 Tip #9 and Photography by @homebysunday
"Life slows down at the table. It's where we gather to eat after a long day of hiking and share our favorite part of the day, it's where we laugh, relax, and where we play games together. This is our favorite part of our entire RV as it is our gathering place and the spot we've decorated to make feel like most home."
Tip #10 and Photography by @thenavarropack
"We all know that our lovely trailers and RVs start off in the orange faux wood life where everything is dark and with the oh, so wonderful 90's style curtains and valances reign supreme. What I personally loved was the major change when we decided to take down all the 90's style and update by painting. It is not a simple task. In fact, it's sooooo much easier to say it than to do, but all that hard work finally paid off. Our trailer is bright and vibrant and for me, it adds so much life to our home by simply having the natural light bounce around. (It makes my pictures look great too… wink wink). If you're up for the task and want to add brightness to your home, open your curtains and let that natural light come on in and make itself right at home."
Are you in the market for an RV? Check out our recent post featuring 8 Customer Favorite RVs of 2021 to help facilitate your new life on the road.