One of the things we love about RVing is getting to spend more time outdoors. After a day of fun, nothing is better than enjoying the evening relaxing around the campfire. Especially if you can do it and also cook your family dinner at the same time! With these easy campfire meal ideas, entrees can be personalized for individual tastes, everyone can be involved in the preparation, and cleanup is a breeze.
My trick for making super easy campfire dinners involves two key items — aluminum foil and roasting sticks. These two inexpensive tools are the foundation for a huge variety of family meals that everyone will enjoy. The aluminum foil is for making foil packet meals and the roasting sticks are for cooking kebab style over the flames. Both ways allow you to use a multitude of different ingredients to create exciting and easy meals over the campfire. And let's face it, anything cooked outside tastes so much better.
Guest Post by Robin Buck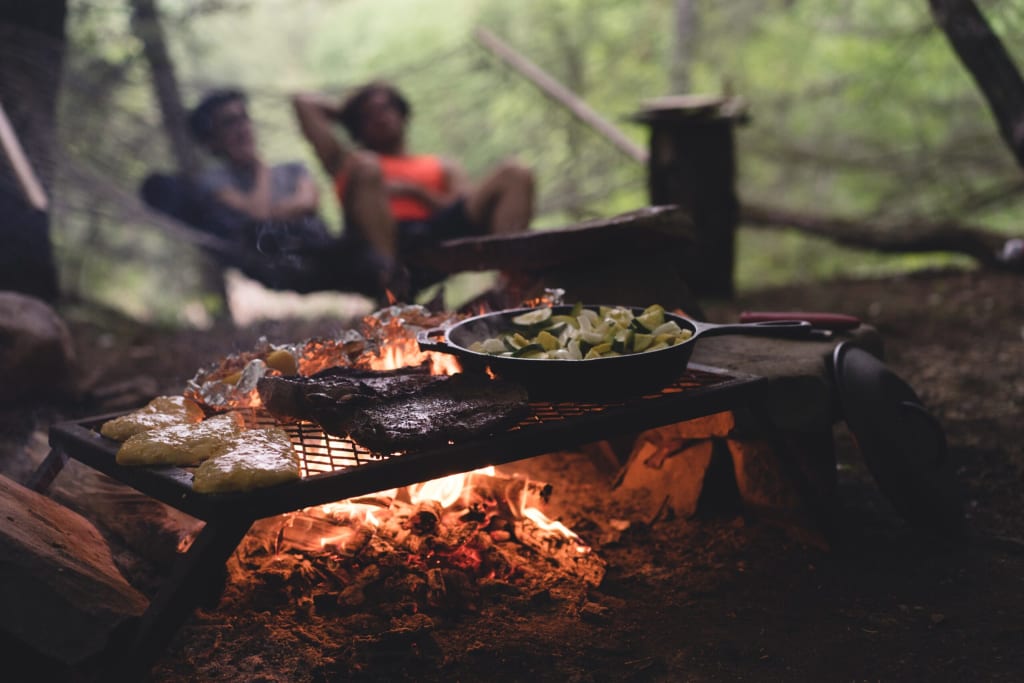 Foil Packet Meals
Foil packet meals are very popular because they are so easy to do. They usually consist of a protein, assorted vegetables, and seasonings rolled into a packet. There are many recipes online, but some great examples are steak and potatoes, fajita chicken with peppers and onions, or salmon with lemon and asparagus. Start by picking your desired ingredients and cut the food into small, similarly sized pieces for even cooking. Chopping the ingredients ahead of time allows you to be ready when everyone is hungry. Your family members will enjoy creating their own customized packet from the item choices.
Place the selected items in the center of a piece of heavy-duty foil. You can use non-stick cooking spray on the foil or brush the ingredients with butter or olive oil. Fold the edges of the foil together and seal the ends to create an airtight packet. I recommend using a second piece of the foil to double wrap the packet tightly for protection. The packets can be placed on the hot coals  or on top of a grilling grate near the coals (not on top of flames). Make sure to use metal tongs and flip the packets every 10 minutes or so for even cooking.
Cooking times will vary based on the ingredients you choose, the size of the food pieces, and how hot the coals are. We have found that most recipes take around 30-40 minutes. Always make sure meat is cooked properly before eating and be careful opening packets as the escaping steam is hot. Since the cooked food is eaten right out of the foil there are no dirty plates to clean so you can just focus on enjoying your delicious meal. We use small bamboo trays that are perfectly sized to hold our cooked packets.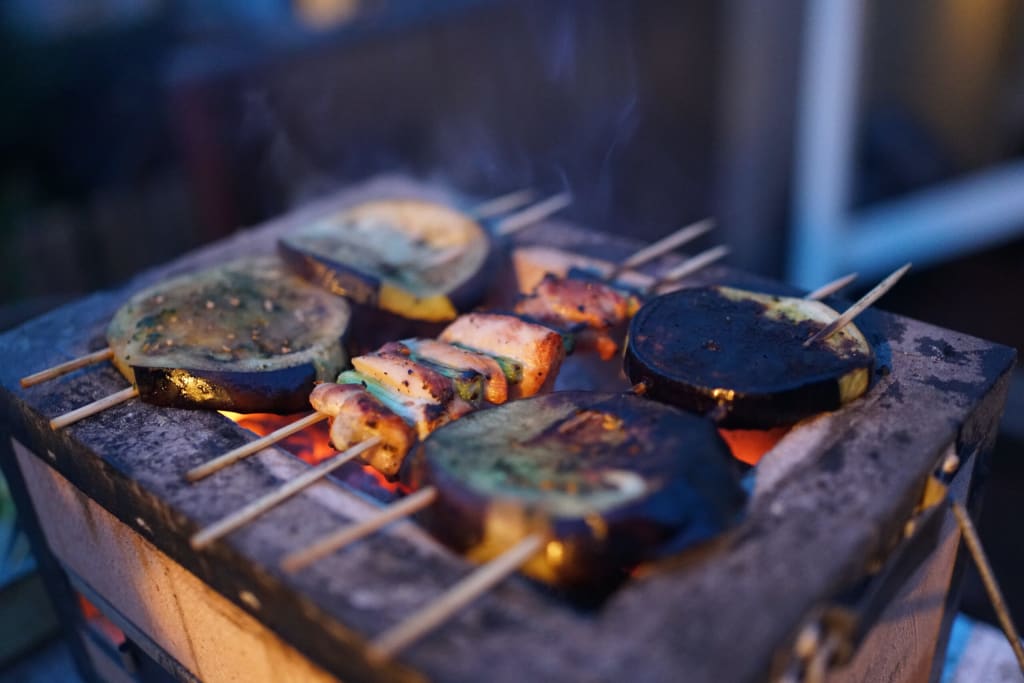 Cooking With Roasting Sticks
Another easy way to make a campfire dinner is by using roasting sticks. You can find a variety of roasting sticks either online or at your local camping store. We like our telescoping sticks which collapse down after use for easy storage. With sticks and the right ingredients, you can create delicious dinners for your hungry crowd.
As with the foil packets, you can simplify dinner by preparing ingredients for your meal ahead of time. You also want to cut items to similar sized pieces for even cooking and always check for doneness before eating. Your family members can still be involved in creating their meal but will also have fun cooking it themselves over the campfire. Make sure to always supervise young ones near an open flame.
Anything that won't fall apart when cooked can be used on your sticks. Hot dogs are a common roasting stick option. You can kick it up a notch by wrapping your hot dog with crescent dough to make a pig in a blanket … on a stick! We love to alternate different meats with veggies for delicious kebabs. My two favorites are steak with onions and peppers or chicken with pineapple chunks. Other good options to try with kebabs are different fruits, sausage or bacon, corn on the cob, or shrimp.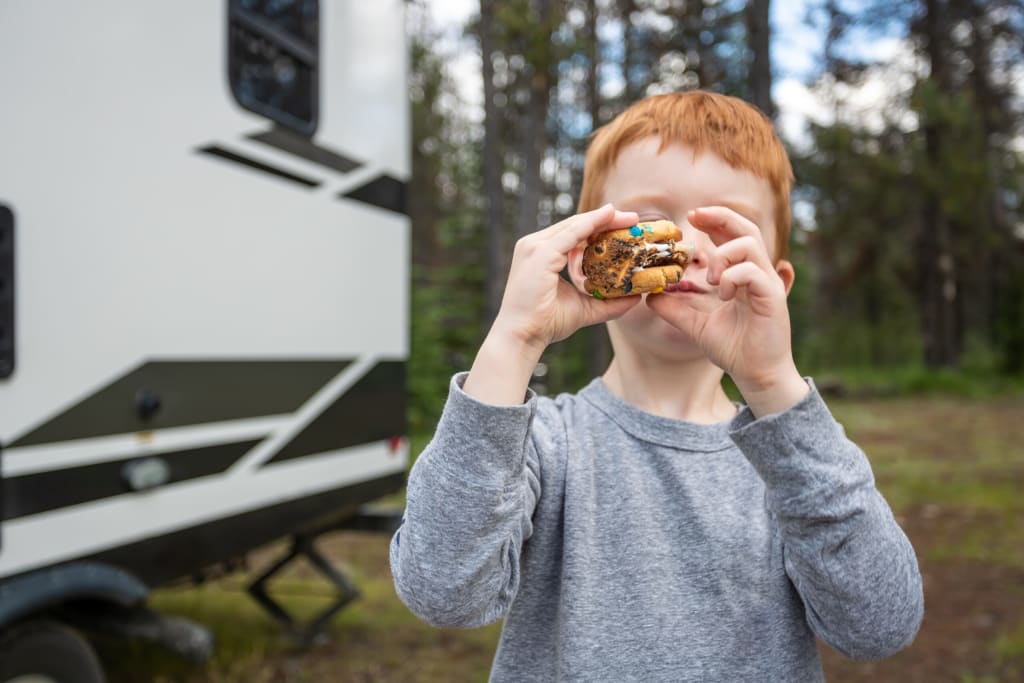 Don't Forget Dessert
While you've got the roasting sticks out, nothing is better than finishing up your campfire dinner with s'mores. Classic s'mores are made of 2 graham crackers, a piece of chocolate, and a roasted marshmallow put together into a gooey sandwich. You can really get creative with this dessert by changing up some of the ingredients. Try cookies or brownies instead of graham crackers for the base. You can also add sliced strawberries or bananas, change out the type of candy bar, or include additions like pretzels or chocolate chips. The possibilities are endless for this yummy dessert.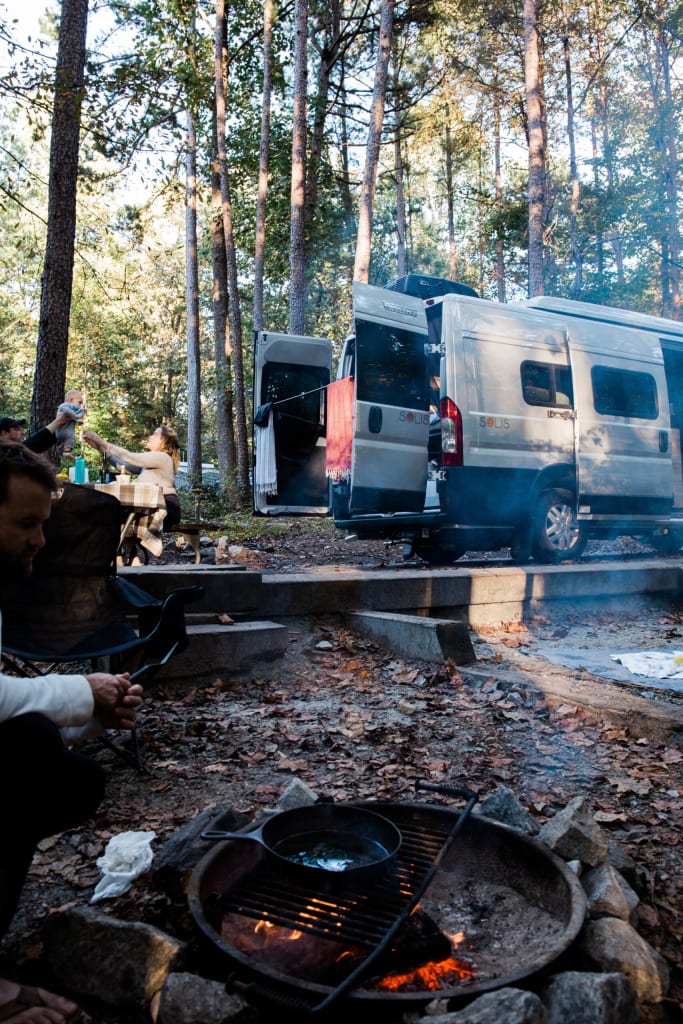 Enjoy Your Campfire Meal
Are you ready to give these easy campfire meals a try? I think you will love the convenience of being able to prepare ingredients ahead of time, but also the fun of having everyone involved in making dinner together. Clean up is so easy and your RV will stay cool since you aren't using the oven or stove. Best of all, you are enjoying the outdoors and campfire with your loved ones.
Robin and her husband, Mike, are Air Force veterans and empty nesters who travel full-time in their Entegra Anthem motorhome. Always ready to explore, they love nature and wildlife, meeting new friends, and discovering America's many hidden gems. Robin chronicles their adventures and experiences on her travel blog RVing with Robin.