If the pandemic taught us one thing, it is that working from the road can be done. Many families have at least thought about it for a short period of time – to homeschool (or digitally school) the children, and take that full-time job on the road. 
In the U.S., traveling full-time while working can be fairly easily done. The easiest way to do so is to purchase an RV, pack up the kids, all of your equipment, and pick areas with a strong connection. 
While this might be simplifying a bit, it is not far from reality. Now let's look at what you should consider before deciding whether working full-time while RVing with kids is for you. It has been our reality for over a year (and a year around the world before that, in RV's and AirBnB's), and while we love the lifestyle, it is important to take the following into consideration: 
Guest Post by Laura Georgieff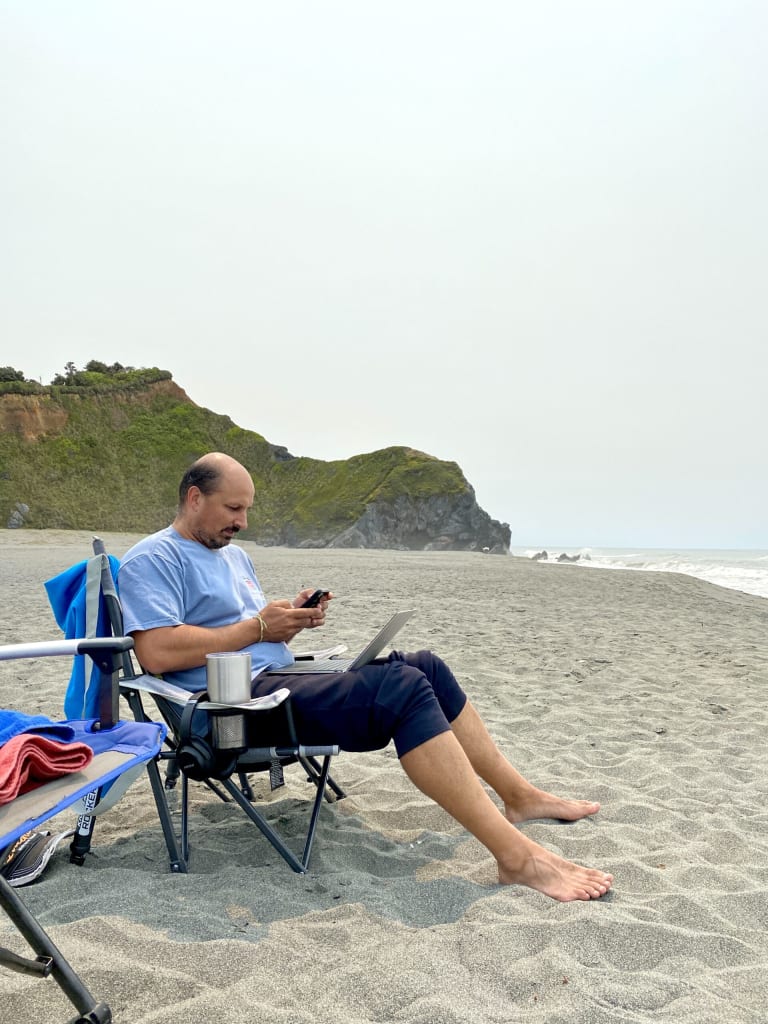 Benefits Of RV Travel
Families contemplating to hit the road full-time with kids have several options – hotels, AirBnBs, home exchange, and RVing are all valid ways to ally work, homeschooling, and travel. 
After having experimented with all of the above, we can only recommend RV travel if you decide to take your office work, or business, on the road. 
The benefits of RV travel is consistency. You wake up at home every morning. Your coffee machine is there, you have your established routine, do not need to pack and unpack your laptop, wifi router, or find accommodations with an office space. If you need to be on video calls, you might also appreciate your background being consistent for your colleagues. 
Now, an RV is also a smaller space than some other accommodations might be, however you will soon get into a routine with your partner and kids, that allows you to dedicate quiet times to work undisturbed. Depending on the RV you choose, some might argue that their set up is at least as nice as at home!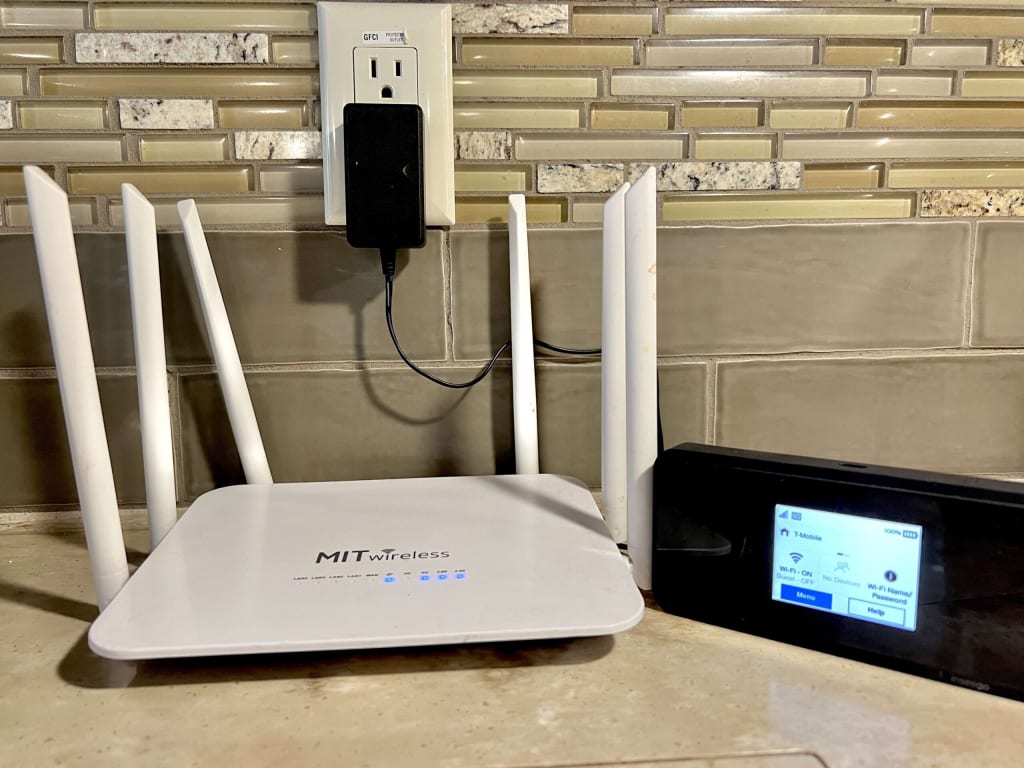 Internet Connection
Here is the number 1 thing to figure out before hitting the road! Our internet connection was a big worry of mine prior to leaving home. Since my husband and I own our own businesses, we knew we had a bit of wiggle room to figure things out on the road… but if you work a corporate job, I'd recommend leaving home with a solution that works well. 
We first decided to rely on our RV's Wineguard 360, which creates a connectivity hub for your RV by activating pre-installed 4G LTE wifi antennas. We connected a data sim card to it and used it to amplify campground wifi connections… Turns out, the connection was often slow, dropped out, and we felt like we did not have enough data to live life with kids – streaming a movie once in a while can be nice 😉
After a few weeks of trial and error, we finally found a solution that worked. My first tip is to leave with at least two different networks. We went with T-Mobile and Verizon. AT&T is another campers' favorite. 
If your travels will take you to a specific area of the country, check the providers' maps of coverage and get at least two data services, since all networks are not created equal in all areas of the United States. 
Here's our winning recipe, which seems to be different for each camper, so make sure to prepare all of this with plenty of time to test from home! We use the MiFi 5G hotspot with a T-Mobile sim card, which gives us 100 GB of data. We also have a One World Wireless plan with an antenna, with is theoretically unlimited but might actually be capped around 2 TB. We stream without counting, with our three kids sometimes using 5 to 8 devices at once, and never ran out of data, nor were we limited in speed. 
We use both devices, based on the speed of connection we get in each location, but really recommend at least the MiFi since it is so portable. It fits in our back pocket and comes with us on hikes when we know we might need to answer emails during an adventure.
The two important things to keep in mind as you decide on a solution is: how much data you will need on a monthly basis, and whether the data providers have your areas of travel covered. The more diversified the coverage map, the better!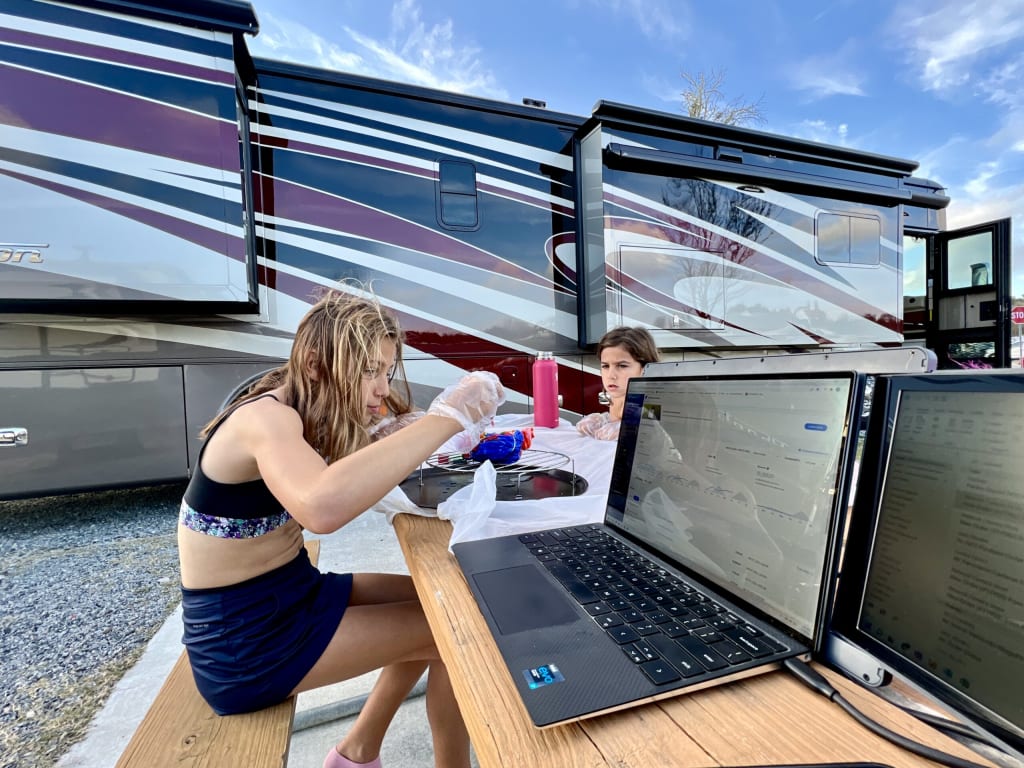 How To Choose Campgrounds For Work
There will be many campgrounds along the way with no network – data or cell. The last thing you want, is getting there on a Monday night and figuring things out as you set camp for the week. 
Never book a campground for working days, without checking the Campendium app! Once you set your eyes on a campground, quickly open the app, find the campground, and scroll down to the bottom to see user-reported connections for cell signals. They will usually report on Verizon, AT&T, and T-Mobile. If a campground mentions a wifi network, and you think you'll need to rely on it, give them a quick call to check on upload / download speeds. 
On Campendium, read reviews as well. Many full-timers comment on how good or poor the connection is for full-time work. 
You can generally assume that national parks and forests lack the connection you will need to efficiently work. There are, of course, many exceptions, and the app will give you a good indication of connection in each place. Keep those beautiful spots for weekends!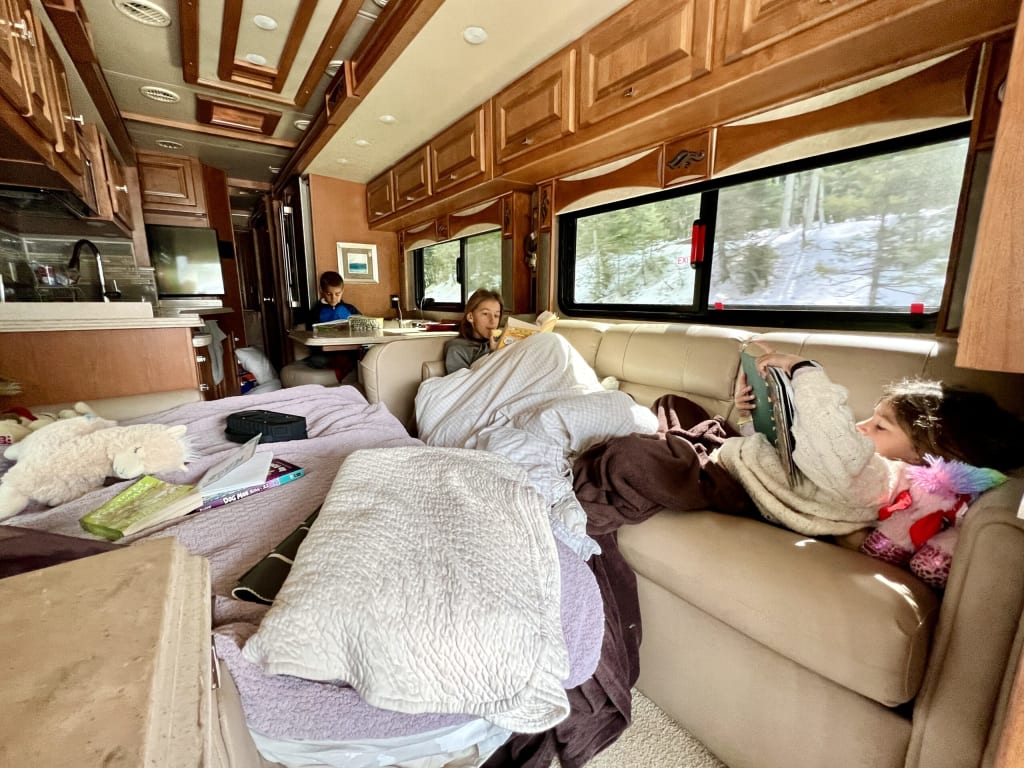 Travel Pace
Travel pace will become a big consideration if you travel full-time. Many working full-timers will only move on weekends, every one to two weeks. This slow-paced travel allows you to keep a clean routine and is less stressful for the parents working. 
My husband and I both work full-time and we homeschool our children. Because we are small-business owners and like to travel fast, we move two to three times a week. I won't lie to you – some driving days are very stressful. If you travel out west, you could drive for hours on end with no cell phone reception. Answering customer emails and phone calls can become an issue.
Each person has a different work situation and you will soon find your groove. Just keep travel pace in mind as you plan out your itinerary around seasons and weather.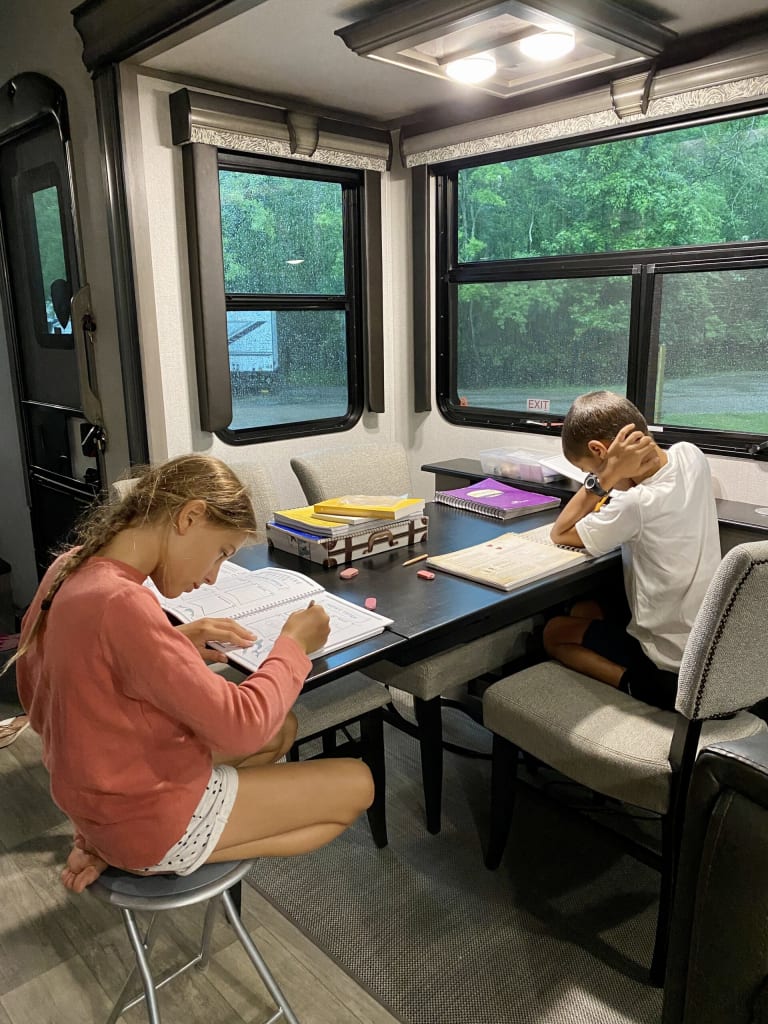 Time Zones
Time zones are another consideration that could create awesome opportunities. If you work in Eastern Standard Time, you might love traveling to Mountain Time. You will start your day two hours early, but be done two hours earlier too. Your 9-to-5 will become a 7-to-3, giving you afternoon time to go out and explore with the kids. 
If you work on Pacific Time and travel to the East Coast, you will likely be exploring in the morning but keep in mind that you will be working during most kids' bedtime schedule. 
We generally find that working from the road several time zones to the west is most comfortable and gives the larger amount of time to explore and enjoy family time.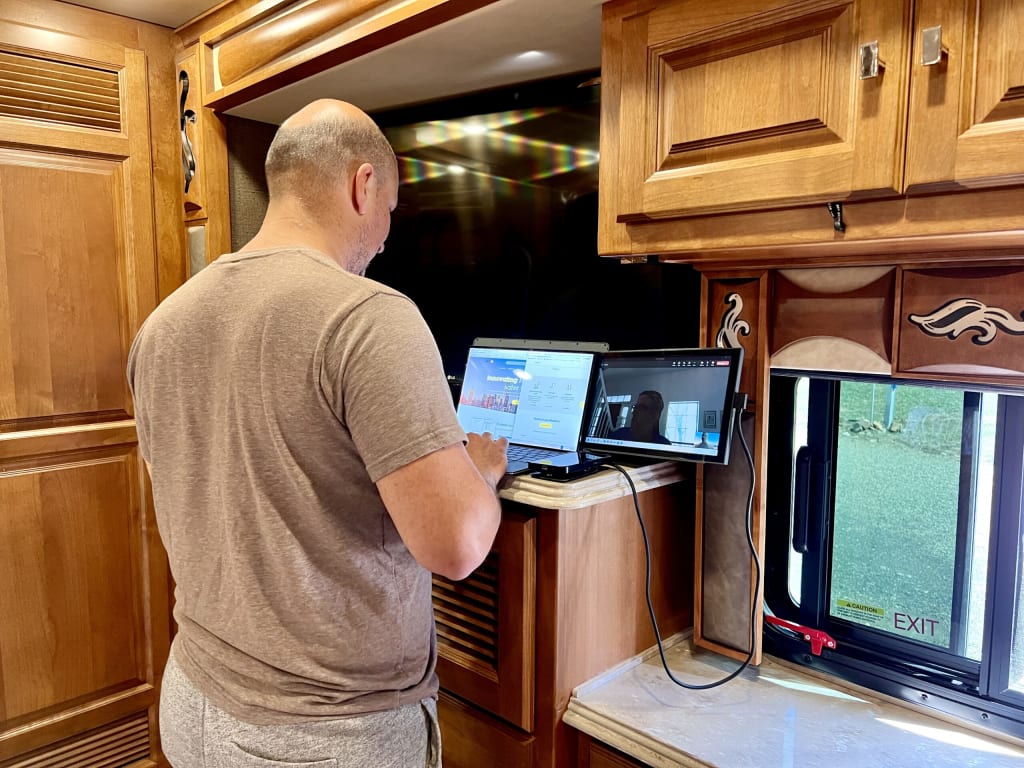 RV Space
When considering this lifestyle, spend lots of time visiting different RV types, asking questions to current family RVers (there is a very strong community on Instagram, happy to help), and researching online. We shamelessly watched dozens of YouTube videos of RV reviews. 
The type of RV you will choose will have a large impact on your experience working full-time while RVing with kids. 
Your budget will largely impact your decision, but make sure to consider floorpans closely. Most full-time RVing families go for a fifth wheel. They usually afford the bigger sense of space. We started with a fifth wheel and my husband had his own office with doors! It became our daughter's bedroom at night, but by day, he could close the door and enjoyed a sweet double-screen set up! 
That floorpan felt more like a home and each person seemed to have his/her own little private space. The kids could homeschool in the main room, while my husband worked from the office, and at night, the kids could go sleep and be shielded from the light, allowing us to use both the living room and our master bedroom. 
Nine months down the road, we traded our fifth wheel for a Class A motorhome at La Mesa RV. Class A's tend to be a little more expensive, especially those with a diesel engine, but they bring a whole new level of comfort. We do miss the separate office and feel more like we are all together at all times. However, since we move several times a week, it is a lot more comfortable to travel in. The kids can homeschool while we drive, saving us precious time once we get to our destination. We always have our kitchen, their toys, and our bathroom with us. Driving down the highway, we can pop some corn in the microwave and have three happy campers. 
This is to say that, your lifestyle on the road will be heavily impacted by the type and size of RV you purchase. Do not haste, nor make that decision lightly.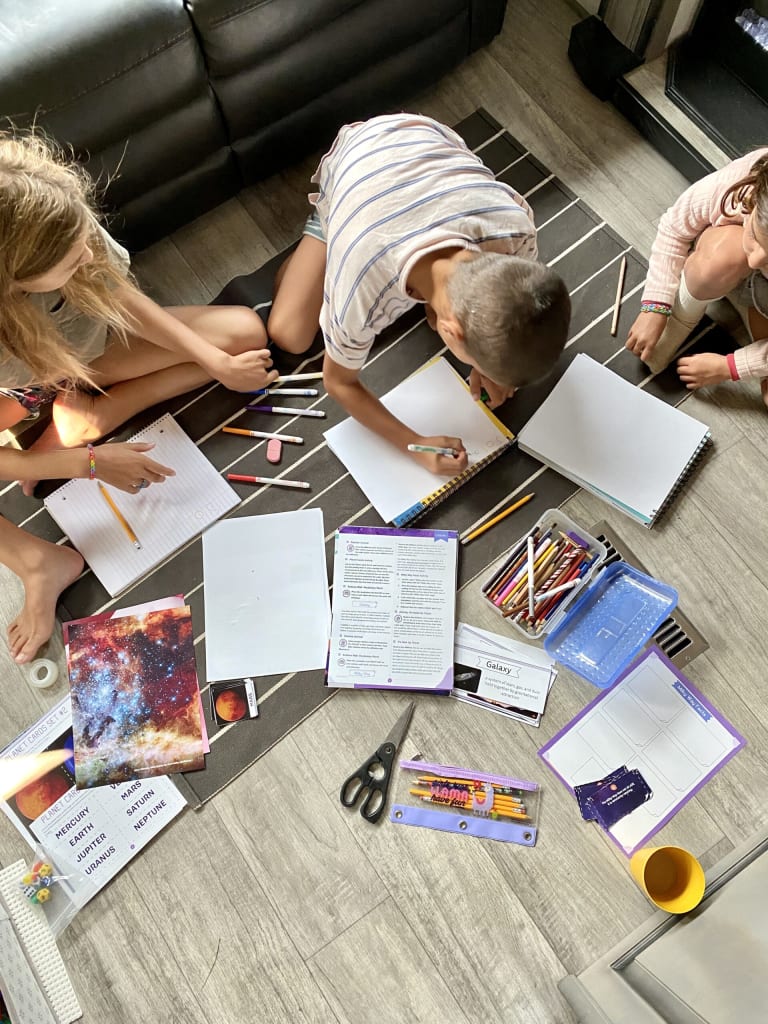 Single Vs. Dual Career Couples
Working full-time while RVing with kids is 100% doable and an extraordinary experience for all. When you think about your day's organization, consider whether you are a single or dual-career couple. 
My husband and I both work full-time, each owning a small business. However, while my husband has to be available for his customers on a daily basis with a set schedule, my work can get done any day at any time. 
If you are a dual career family with varying schedules, you will find a rhythm that works for you. One will homeschool the kids while the other works. The next will work while his/her partner cooks and plans the next day's trip, etc. 
I typically spend the most time helping the kids with homework. However, on weekends, I try to get some work done while my husband takes the kids out for a game of ball. When some days are a little tougher on the homeschooling, I might be getting some work done at night, while he assists the kids who have not finished their work for the day. 
If both partners have a 9-to-5 job, you will need to figure out a schedule that works with your kids. This brings us to the next topic – homeschooling options.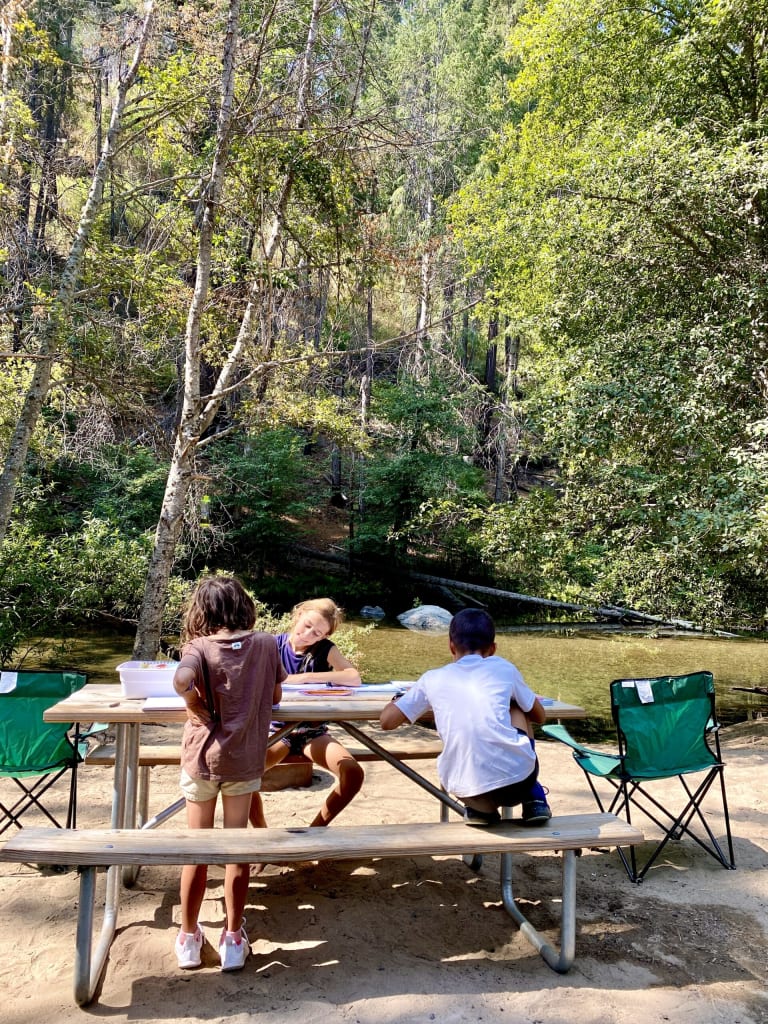 Homeschooling Options
There are so many homeschooling options and styles today! 
To build on what we were just discussing, if both parents are busy with work around the same times each day, you could consider some online schooling, either through your school district or independently. This could remove a lot of the burden and allow everyone to work independently during the same hours. Based on the age of your children, that can be a very successful model. 
If you can have varying work schedules, or if you are a single career couple, homeschooling offers the most flexibility. Whether you fully homeschool, road school, world school, or unschool, you will love the freedom of working with your kids at your own pace. There is so much to be learned outside of the classroom, travel is the best opportunity to teach the kids about the world around them. Turn every day into an open classroom and cover your math and language arts basis around the homeschool table! 
Only you can find the best schedule and option for your family. We tend to homeschool first thing in the morning. However, when we traveled down the East Coast in the winter, we found that exploring before my husband's phone started ringing made more sense, since it was too dark to explore after his work hours. We switched to a mid-day homeschool. 
Remember to be flexible and give yourself plenty of grace. Your kids will be doing fine and absorbing so much more information than their little counterparts in school!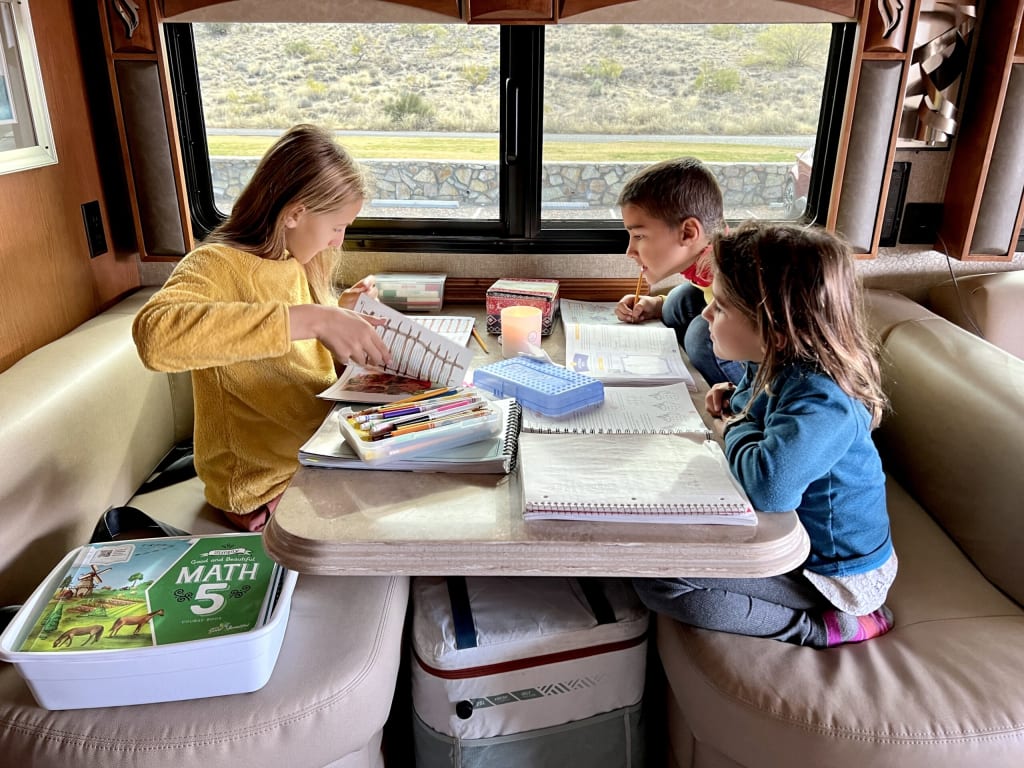 Working Full-Time While RVing With Kids
I hope that this article gives you a little insight into what life RVing with kids looks like. I am a big defender of "just do it!" Does it seems scary to make the plunge? Absolutely. Have we ever regretted it and looked back? Not for one second! Do we have hard days on the road? Every week. Did we have hard days at home? Every week…
No, it is not easy. Please, do not expect it to be. Leave with the right mindset, be mindful, and expect things to go wrong. There will be unexpected days with no cell reception. My husband has spent more than one day working from the car by the side of the road, just up the mountain enough to get a bar of service. There will be days the kids put up a fight and homeschooling will take 8 hours instead of 3… be ready for those days. It is still life! Emotions can run high, fatigue even higher… it is real life, just lived differently, with its fair amount of extra stress. As long as you don't expect this adventure to be a long vacation, you will be fine!
But it is 100% worth it! If you have the opportunity to do it, jump with both feet forward. You will figure out, as a family, as you go. The small space should not scare you. We worked out a system where, upon hearing my husband clap his fingers, we all go silent – we know he is getting a customer phone call, and our life on the road is dependent on both of our jobs. It took the kids less than 24 hours to learn the cues. If we can do it, you can do it, and you will do a beautiful job at it! As long as you get the right kind of RV for your family, and leave with a strong internet solution, you will be totally fine. Everything else will just fall into place. It's a beautiful mess called life. 
Happy life on the road!